About Us
Best Value for Your Dollar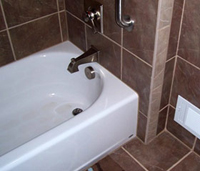 All of us at AWS work closely with our clients to help them realize their dreams while maximizing the best value for their dollar. Come visit our showroom and allow our staff to give you a brief tour of the various cabinet lines emphasizing the unique characteristics of each line. We will also be able to show you the various countertop materials and explain the different qualities and characteristics inherent in each material to help you with your selection process. Our talented staff has over 30 years of experience in remodeling to offer our clients.
Home Design Services
AWS offers in house design services, with an eye toward functionality and space planning. We carry a full line of cabinetry for all of your cabinet needs. We have many cabinet lines offering entry level for the economy minded client, the semi-custom lines in Maple, Cherry, Painted and glazed. We also have a beautiful line of fully customized cabinets for our Clients who demand the highest level of quality and workmanship.
Complete Kitchen and Bath Renovations
Basement and Attic Conversions
Drywall, Trim work
Flooring and Painting
Laminate or Stone Countertops
Shower enclosures
Ceramic Tile installations
Plumbing Fixtures
Lighting Fixtures
Sun and Patio Rooms
Vinyl, Composite and Treated Wood Decks
Doors (vinyl to wood clad)
Insulating Replacement Windows (vinyl & wood clad).
Exterior Siding, trim and Guttering
Specialty projects like wine cellars, steam showers, saunas and whatever else you have in mind
Remove load bearing walls & AWS can save money by making a redesign within same footprint.
Our Process
AWS will quote your complete project – materials, labor & installation:
We will take photos of your kitchen, bath, family room, basement, whatever the project may entail.
We measure the existing space for layout on your new remodel.
We will make 3-D drawings of the space, to verify adequate space planning.
We will work up a quote, which will cover all of installation issues, including plumbing, electrical, drywall, labor, materials, site preparation, clean-up and disposal charges.
Bottom line is you will know what you will be spending prior to the start of the job, no "Labor only" quotes, with unrealistic budgets that you will never be able to meet.
Our friendly staff will be happy to work closely with you to answer any questions that you may have regarding the products, the process and any design questions that you may have. We have products available that will be able to meet your lifestyle and budget.
References on our Work:
AWS will gladly offer references in your area and in the scope of project you are planning whenever we are working with a client. Please view our
Testimonials Page
on our website.
---
To contact


The

Residential Remodeling professionals at AWS
CALL 502-458-7313 for your next project.
---

In Kentucky: Louisville, St. Matthews, The Highlands, Prospect, Glenview, Lyndon, Anchorage, Middletown, Harrods Creek, Hurstbourne, Plainview, Douglas Hills, Jeffersontown, Crestwood, Pee-Wee Valley, Hikes Point, Fern Creek, Iroquois Park, Okalona, Valley Station, Shively, and Fairdale.

In Indiana: New Albany, Jeffersonville, Clarksville, Sellersburg, Floyds Knobs, Charlestown, Borden, Goshen, Georgetown and Greenville.

We also work in an approximate 50 mile radius of Louisville, whenever called upon.